TRANSLATION

---

We currently have about 30 translators registered with us, and we mainly translate documents from Japanese to English or German. On a client base, 40% are government agencies including the Cabinet Office, Ministry of Justice, Ministry of Education, Culture, Sports, Science and Technology, about 25% are major law firms, about 20% are educational institutions such as universities, and 15% are companies and others.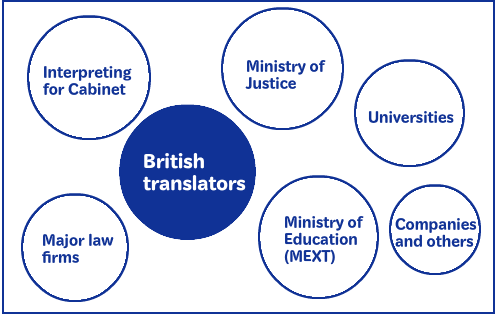 English translation of Japanese laws and regulations
---
Following 21 years of experience in translation, interpreting, education and training at the Ministry of Justice and the Ministry of Education, Culture, Sports, Science and Technology (MEXT), our strength lies in our abundant experience of legal translation gained from working for the Ministry of Justice matched with our plentiful experience of educational translation gained from working for MEXT, which includes interpreting and preparation of Q&A document translations for courtesy visits by foreign government representatives and senior government officials, documents related to the G8 Justice and Home Affairs Ministers' Meetings, preparation of documents for meetings, discussions and negotiations at the United Nations, and participation in the project for promotion of the translation of Japanese laws and regulations into foreign languages. We translate laws and regulations taking into account the differences in the legal systems, cultures and business customs of countries around the world.
Using our detailed project case system and confidentiality framework, we support our clients' global legal or corporate activities from the perspective of "legal translation".
Academic paper translations
---
Specializing in civil, criminal, immigration, corrections, and human rights areas, we translate academic papers for law or education faculty professors and presentation materials for conferences.
Due to our thorough quality control and meticulous follow-up system, we receive steady requests from many universities and graduate schools in Japan, public and private research institutes, and companies.
Although we mainly translate academic papers, we receive requests ranging from presentation materials for academic societies to school brochures and education institute website translations.
Contract translations
---
Accurately translated business contracts form the foundation for all international business transactions with clients or business partners who use not only different languages but also work within different legal systems and business cultures. Contract translation is an area that, by its very nature, requires absolute accuracy.
Over the years, we have received translation requests and client introductions from major law firms inside and outside Japan for contract translations. Our contract translation service is also used by the legal departments of numerous companies. When we translate legal documents, it is not enough to simply translate the text literally. If the contract is not translated without due consideration for the differences in the legal systems, business cultures and established customs of the respective countries, serious problems can occur later down the line.
This applies not only to the major companies that have their own legal departments but also to smaller companies which now have the opportunity, thanks to such social media as YouTube, Twitter and Instagram, to expand beyond domestic borders and to promote their business in so many other countries. In order to do this safely and securely, what they need is to enter into a "contract". The world is their oyster … provided they have the right bridge, of course.
Interpreting

---

Overseas local procurement / English interpreters 

・Suitable for clients who would like to hire local interpreters therefore saving on the cost of providing travel and accommodation expenses for overseas trips.
・An appropriate interpreter will meet the client at the time and place where the interpreting is required. (English only)

Payments accepted using major credit cards.

Languages
· English
· Chinese
· Korean
· French
· German
Please feel free to inquire about other languages.
Areas of specialty

・ Law
· Contracts
· Government
· Education
· Public relations

History of interpreting achievements

・International conferences

・ G8 summits

・ Courtesy call on the Minister of Justice by high-ranking foreign officials on topics of common interest

・ Courtesy visits to the Minister of Justice by participants of International training courses and seminars on criminal justice

・ Exchange of opinions between the US Ambassador to Japan and the Minister of Justice

・ Courtesy call on the Minister of Justice by the IOM Secretary-General

・ Courtesy call on the Minister of Justice by the Director of the FBI

・ Courtesy call on the Minister of Justice by the High Commissioner of the UNHCR

・ Courtesy call on the Minister of Justice by the High Commissioner of the OHCHR

・ Courtesy call on the Minister of Justice by the Chair of the German-Japanese Lawyers Association

・ Courtesy call on the Prosecutor-General by the Attorney General for England and Wales

・ "United States Law Day" Reception

・ Courtesy call on the Minister of Justice by high-ranking US military officers and US embassy officials

・ Courtesy call on the Minister of Justice by the EU Troika Ministers

・ Courtesy call on the Vice-Minister by the California State Legislature

・ Meeting between the Vice-Minister and the Executive Director of the UNODC

・ Courtesy call on the Minister of Education, Culture, Sports, Science and Technology by the Minister of Education

・ Many others